Secure and comfortable. Touch controls.
From phone meetings to playlists in the park, these true wireless headphones are there for you. They don't mind rain or sweat, and you get great sound and a secure in-ear fit that won't come loose.
IPX5 water and sweat resistant
With an IPX5 rating, these true wireless headphones are resistant to sustained wetting from any direction. They won't mind a little sweat, and you don't need to worry about getting caught out in the rain.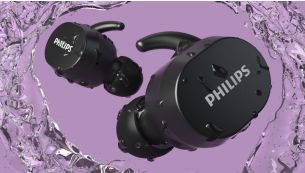 Portable USB-C charging case. 18 hours extra play time
Take your music anywhere. You get great sound from the 6 mm drivers, and 6 hours play time from a single charge. A fully charged case adds another 18 hours. For a quick boost, pop your headphones in the case for 15 minutes and get an extra hour.
Make calls using a single earbud. Mono mode
Taking a lot of calls? You can double your talk time by using one earbud while the other one charges. The mic is automatically assigned to the earbud you're using, and you can simply swap over when your current earbud is running low on battery.
Additional Images