Every moment. Every day.
These strikingly slender wireless headphones are all about focus. Wherever you listen, Active Noise Cancelling lets you sink into the music you love. Multitasking is easy too-you can pair simultaneously with two devices.
Focused on your music. Active Noise Cancelling
Want to reduce noise when you're on the go? Internal mics in the ear cups of these wireless over-ear headphones filter out the engine noise you don't want to hear, so you're free to be with the tunes you love.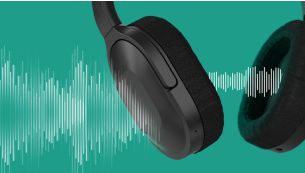 Slim over-ear design. Distinctive looks
The oval ear-cups and slender frame lend a distinctive sense of style. The over-ear fit creates a seal that passively isolates external noise. 32 mm drivers deliver deep bass and clear, detailed sound.
30 hours play time. 25 with Active Noise Cancelling
With 30 hours play time from a single charge-or 25 hours with Active Noise Canceling activated-these wireless on-ear headphones are with you all day long. A full charge takes 2 hours. Need an extra boost? 15 minutes charging gives you 2 hours more play time.
Integrated controls. Clear calls
Buttons and a dial on the ear cups let you pause your playlist, take calls, control volume, and wake your phone's voice assistant. Calls are nice and clear, and you can pair your headphones with two devices simultaneously.
Easy storage. Flat-folding and compact-folding design
The ear cups swivel to allow the headphones to fold flat-perfect for storing in your office drawer. Or you can fold them flat and inwards, creating a compact bundle that easily fits into the included soft pouch.
Additional Images